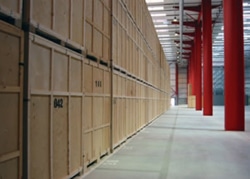 We can store your household goods in our 30 000 square feet storage facility. We offer short or long-term storage in our Wooden Crates Furniture, office equipment or any other kind of valuables, in our climate controlled and secured warehouse located in Montreal.
Our storage facility is safe and secure. Your valuables will be safely stored in our Wooden Crates of 49 square feet (7 feet X 7 feet X 7 feet). As a moving and storage company, we understand the need for being careful with delicate items in the moving and storage process. Every item that ADT moves into our storage facility has been identified, tagged, and wrapped with our blankets for safety.
Our warehouse is not open to the public, but to our clients only, who need to contact us 48 hours prior to gain access to their storage space. This practice greatly increases the safety of our warehouse.
Contact us for a free estimate 1-888-903-6683 local 514-766-3300 Mtl