ADT Moving and Storage: Commercial Moving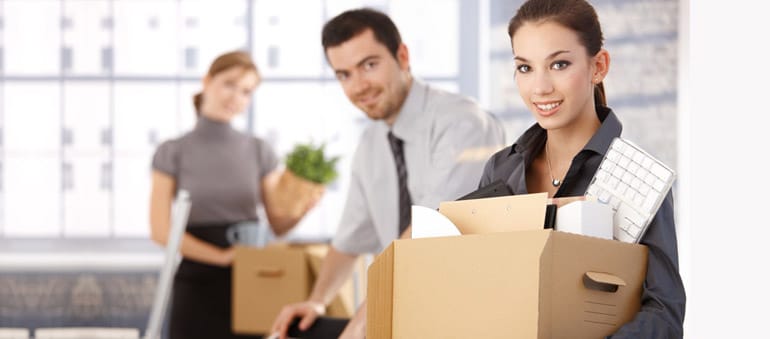 Moving your office from location to location can be time-consuming, stressful and may interfere with your business. Unlike a residential move, a commercial relocation happens on a much grander scale, and therefore requires a professional logistics team to ensure that everything runs smoothly. At ADT Moving and Storage, we understand the very nature of commercial moving requires expediency and meticulous care. After all, your office equipment and furniture are the parts of an engine that keep your company running.
If your office is moving to and from the Montreal and surrounding areas, you can trust that our team of Professional movers will provide a seamless moving experience like no other moving company in the city, no matter what. For over 20 years, ADT Moving and Storage has been proudly serving commercial enterprises in the Montreal and surrounding areas. We have experience moving many business types to and from a wide variety of building layouts. No commercial move is too big or too small for us, as we have the experience, passion and qualified staff to make your move a stress-free experience.
WHAT ADT MOVING AND STORAGE OFFERS
With ADT Moving and Storage, your commercial move will be a breeze. From the moment we receive your free quote request, our experienced commercial moving specialists are already working for you to make sure your busy day goes off without a hitch. From the very beginning, we offer expert advice and help you plan and prepare your relocation. You decide how involved you'd like our staff to be in the packing process.
If you decide to depend on your own staff to pack your office belongings, we will happily provide you with all the packing materials your office needs. However, we are more than happy to offer our packing services, which is a favorable option if you don't want to disrupt your staff. When moving expensive machinery like copiers and computers, rest assured that our teams are fully trained and highly qualified.
HOW ADT MOVING IS DIFFERENT
With ADT, you can expect more than a crew and a truck to show up on moving day. Our professional and experienced consultants will assist you during every important step, like the planning, preparing and packing. After years of moving entire companies in and around the Montreal area, ADT Moving and Storage staff are experts at disassembling and reinstalling important office equipment, such as heavy modular desks, filing cabinets and large-scale furniture or complicated office set ups.
Your commercial move should not negatively affect your business. That's why our relocation services are available any day of the week, even if they fall outside normal business hours, at no extra cost.
IS YOUR OFFICE READY TO MOVE?
If your company has just found a new place to call home, it's time to start thinking about hiring a moving company. Within 24 hours, our professional moving consultants will provide you with a FREE ESTIMATE and can even give you a detailed budget of the anticipated costs for the move. We are always available to answer any questions you might have, so do not hesitate to reach out to one of our specialists. We try to make this transition as painless as possible, but we understand that every company has different needs. No matter what size your company, or what sort of equipment you have to transport, rest assured that ADT Moving will be with you every step of the way.
Call ADT Moving and Storage to request a free quote for your next move.